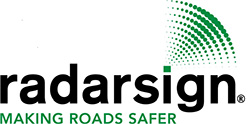 The TC-600 is an 13" ″ high super bright amber LED display speed radar sign.
Radarsign's built for purpose design is the most vandal resistant radar speed sign on the market today.
> Faceplate Options
28″W x 33″H - White
28″W x 33″H - Yellow/Green Flourescent
28″W x 33″H - Safety orange
> Power Options
AC Power
Solar Panel - 50 Watt
Solar Panel - 75 Watt
* Some options are avilable at additional cost.
> Macrolon® Polycarbonate Display Cover:
.25" thick protective sheet covers entire display area
Abrasion, graffiti and shatter resistant
UV protection
> Exceptional visibility
Dimensions:18.5″H x 26.25″W x 5.0″D
Thickness: .1875″ to .25″ thick heavy-duty aluminum
NEMA 4 level compliant
Humidity Maximum: 100%
Non-sealed and ventilated
Provides maximum protection from the elements and vandalism
> Speed Violator Alert
Alert choices:

Slow flash of actual speed
Fast flash of actual speed
SLOW DOWN message
TOO FAST message
Simulated camera flash and white strobe (optional); Red/blue flashers (optional)

Display speed and word message alerts alternately
Display on-off feature allows traffic data collection continue even when the display is off (stealth mode)
> Standard Programming
On/Off Timer Options: 4 timers per day, also by day of week. Settings allow lower speed limits for school zone times and for late night display shutoff.
Display On/Off: Allows traffic data collection to continue even when display is off
Display Brightness Control: Auto adjusts to light conditions, up to 100 levels
Setup Functions: Easy to follow menu, no mechanical switches to operate
Maximum Speed Cutoff: Prevents unwanted high speed displays; up to 99 mph; discourages "racing" of sign. Choice of flashing matrix, or LED display cutoff.
Date/Time Control: Battery backed real-time clock auto-adjusts for daylight savings time.
> Wi-Fi Enabled
Allows access to program signs from most web enabled devices (Apple devices, Android devices, Windows devices, etc.)
Requires no proprietary or custom software to operate
WPA2 encrypted security
Password protection
Range of up to 300 feet from sign
> Radar
Detects vehicles up to 1200 feet away.
> Warranty
Two year warranty on parts and labor, including batteries; Does not cover malicious abuse, theft, or damage due to unauthorized modification. Optional third year warranty extension available
> Ideal for
15KPH to 70KPH zones
> Information Download
More than traffic calming, Radarsigns® are traffic analysis tools too!
All Radarsign® models come with built-in data-logging capability. Every sign can record up to one years worth of traffic data statistics. This includes time stamped number of vehicles and their speed as they pass by. Using the StreetSmart software you can do complete statistical analysis of these traffic patterns.
That is great, but the radar signs can also operate in STEALTH mode. ie. all the operational lights are off, making drivers assume the sign is not operational. Therefore their natural driving habits can be continuously recorded
With Stealth and Regular mode operations, you can easily gather before and after vehicle statistics of the location being analyzed. You can determine the day of the week and time of day when most people speed and more. By comparing stealth and operational data sets, you can prove for yourself that radar signs can be effective at reducing vehicle speed by more than 12% (based on customer feedback)
Learn more about the StreetSmart PC app. There is an extra charge for the software but makes the radar sign infinitely more valuable.
For more information on this product, please visit the StreetSmart page.